Where in the world did the last 3 months go??? Poof, and they were gone! My baby is one, our house is still on the market(bah humbug!), I am going crazy making Christmas presents, and I CAN EAT CHEESE!!!
Have you ever gotten in a routine, done really well with it, then something happens and your routine is gone? It seems like that happened with this blog. I was in a great routine making templates, keeping up with everything, then life went haywire in July and I have not been able to get back into a routine with this. IT is driving me CRAZY! I love making the temps, and seeing what you all make with them, and want to do this, but getting back into routine has not been easy! I am going to try to make a big effort to get back into doing this, but it will take a little while. This will probably be my only post between now and Christmas, maybe New Year's.
Is anyone out there going to do project 365 next year? I knew there was no way I would get it done this year with a newbie in the house, but really want to do a "Project 365-2010" album next year. We'll see if that actually happens!
Things have changed a little around our house. With looking at selling our house, the state of the economy, and the housing prices in the areas where we want to live, Jon and I have made a decision. It will take a lot of pressure off him as the sole provider, and I need to do something that gets me out of the house some! It's been 4 years since I became a Stay-at-home mom, and I am craving some other type of mental stimulation. I have wanted for a long time to help parents parent better, learn strategies for a peaceful home, and start their parenting career with confidence. With all that in mind, I am launching Harmony Birth and Parenting Services in January. I am really excited, and will have a link to my website soon. I will be doing pregnancy coaching, childbirth courses, providing doula support during labor, parent consulting, and teaching other classes and such. We will see where this takes us!
Now, Christmas is just around the corner, and I know a lot of you are putting together your 2009 books, so check out the store for some of the great templates you see here:
And here are the freebies I have been promising for a great while!
Template 74: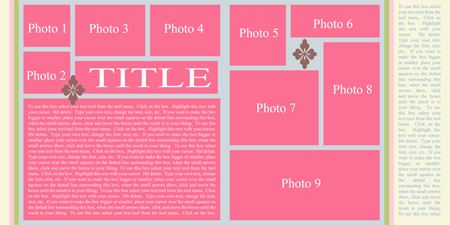 Template 75:
Template 76:
Well, that seems to be it for now. I hope you have a wonderful Christmas and a fantastic New Year's. See you very soon!!